Over 2,500 years ago, the Buddha was born in Lumbini, in western Nepal. He attained enlightenment in Bodh Gaya in the southwest of Bihar state, in northeastern India. Both have become world-famous tourist spots.
The Reality
People may think that, as world-famous tourist spots, locals there would be prosperous -- but they are not. Both places have remained trapped in poverty, as they were over 2,500 years ago; they are very plain and underdeveloped.
Master's Encouragement
After learning of the situation, Master Cheng Yen, founder of Tzu Chi, encouraged volunteers: "Having understood their needs, we must bring them aid. Only then can we encourage them to sow blessings and guide them to practice the Dharma. It is not impossible for us to do so." She encouraged the volunteers to work together to spread the Buddha's teachings:
"We should come together in great numbers, unite our hearts as one, to sincerely and earnestly call on all to follow the Buddha's teachings. Let us vow to work with the same heart, so we will have great strength to guide people there to practice the Dharma and help them to receive an education."


The Master also told volunteers:
"Let us pave a path of love there. See how rough and uneven the path was. It was dangerous for the elderly and children to walk upon the path. As someone offered to pave it with bricks, others could step on the bricks and walk the path without worry. We must also pave a smooth path within by cultivating a calm and peaceful mind. We must all express our sincere piety and show how our minds are tranquil and without desire."
Aspiration
Dr. Tang Kiat Beng, Deputy CEO of Tzu Chi Malaysia, said: "Master has said that, when she is still with us, we must bring everyone together to walk the Bodhisattva Path and spread the teachings of the Lotus Sutra in the land of the Buddha."
Now, after two and a half millennia, Tzu Chi volunteers from Malaysia and Singapore have vowed made vows to help these two lands, bringing with them the teachings of the Buddha, aiming to uplift the lives of the residents.
Affinities
In 1993, Nepal experienced a catastrophic flood, prompting Tzu Chi volunteers to enter the disaster-stricken areas. An elderly woman cried: "Could you give me a piece of plastic sheet? Every night, I wake up in the cold, and, when it rains, I am soaked through." That year, Tzu Chi constructed 1,800 Great Love homes in Nepal.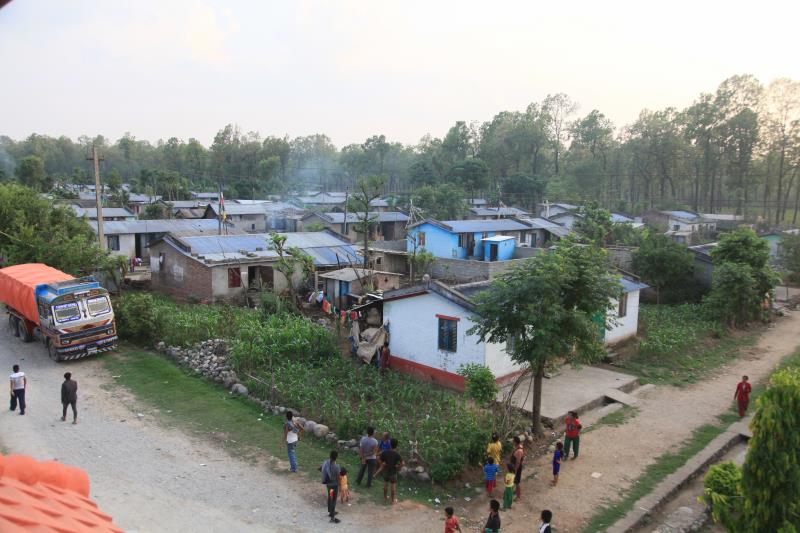 On April 25, 2015, when Nepal was struck by a devastating 7.8-magnitude earthquake, Tzu Chi returned. The volunteers provided medical aid and hot meals through donations from 38 countries, benefiting approximately ten thousand people.
Persevering Efforts
Starting from April 28, 2022, Tzu Chi volunteers from Malaysia and Singapore departed in batches to begin Tzu Chi's mission in the Buddha's homeland; since then, their dedication has been unbroken. Having left behind the comforts of their own home, they have committed to stay there in the mid-to-long term as they strive to transform this land.
Their work focuses on medicine and education but also includes sharing of Tzu Chi's values and carrying out relief work. They believe in giving of themselves with genuine sincerity without asking for anything in return and that they will quickly blend in with the society of Buddha's Homeland.
From diligent cultivation and sowing seeds of kindness to the fruition of these efforts, the path has been arduous. Volunteers have left indelible imprints of compassion in Lumbini and Bodh Gaya. Diligently tilling the fields, they adhere to Master Cheng Yen's teachings and at the same time carry out her missions of charity, medicine, education, and humanistic culture.
Many people in Buddha's homeland are poor and ill. With scarce medical resources, they are suffering greatly. At the root of their suffering is a lack of education. Without it, many have been living in poverty.
Master Cheng Yen reminded volunteers: "Every one of us should work to inspire goodness in others. This way everyone will practice goodness collectively."
Tzu Chi volunteers visited various institutions, aiming to collaborate with local groups to assist underprivileged children in their pursuit of education. Volunteers work with principals and teachers to retrieve dropout students. They distributed school supplies and jackets to students and introduced Jing Si Aphorism teachings to educators. They hold local school sports events – never held before -- to promote parent-child relationships. They visit stores and promote Jing Si Aphorisms to create a harmonious community.
They conducted door-to-door health check-ups and encouraged the locals to adopt Tzu Chi's Bamboo Bank spirit of sewing blessings by setting aside a little a day to help others in need. Touched by Tzu Chi's support, a 70-year-old beggar, Gain Manjhi, has transformed his life to become a volunteer helper. Additionally, volunteers are promoting environmental protection in villages, advocating Earth stewardship, and aiming to bring purity to both the environment and individuals.
Growth of the Bodhi Grove
By June 2023, due to the tireless efforts of the volunteers, over 100 local volunteers have participated, with 44 receiving training. The hope is to welcome more villagers into this compassionate mission and benefit the entire community.

As the teachings of the Buddha return to his homeland, the aspiration is for every child with the opportunity to tread the right path and become a pillar of society and a symbol of hope. It is hoped that every teacher can walk alongside Tzu Chi and provide quality education to the children. The aspiration extends to every person encountered in any corner, to become compassionate beings, and to spread the teachings of the Buddha and universal love across this land.
On implementing this project, Master Cheng Yen said: "I am confident that we can do it. Yet it is a pity that I don't have much time or strength to guide and inspire them. All I can do is seize my life to give talks and call on more people to join our ranks. I also hope that more people can listen to my talks so they will draw their hearts close to mine and work with us in unity and joint effort."
Taking Care of Our Innate Buddha Nature
Lumbini, the Buddha's birthplace, symbolizes our innate Buddha nature, pure and clear. Master Cheng Yen reminds the volunteers to take care of their hearts and minds by connecting with the Buddha's birthplace: "Everyone must all give with love by tapping into our innate Buddha nature. Let us all practice goodness, grow in wisdom, and understand all true principles in the world."


To listen to Master's teachings about this project, please click here.