Even a small light can illuminate dark corners. Setting aside a handful of rice each day can help those in poverty. On August 6th, the Siddhartha Primary School in Lumbini, Nepal, held its second "Rice Piggy Bank Reunion Day." It showed how even a single handful of rice can spread aid and kindness. This act of love not only touched the hearts of teachers and students but also influenced families. On this day, the local community enthusiastically joined in the spirit of giving.
First Primary School Responds to Rice Piggy Bank
"We began setting aside a handful of rice each day because Tzu Chi helped us and encouraged us to assist those in need," Principal Altaf Husen Khan gazed at the long line of people donating rice piggy banks and spoke with heartfelt gratitude. His efforts over the past six months have not only transformed the teachers and colleagues in the school's management, but also the students. This deep cultivation of humanistic education within the school has made him see the hope for the children's future enriched with love.
In 2022, Tzu Chi volunteers from Singapore and Malaysia arrived in the impoverished town of Lumbini, the birthplace of Buddha, and began initiatives to uplift the community. In December of that year, volunteers entered the campus, distributing school supplies, organizing parent-child sports events, and engaging in acts of filial piety by washing the feet of the elderly and serving tea. They also provided Jing Si Aphorisms teachings, reintegrated children who dropped out of school, and even constructed school buildings. Throughout these continuous acts of care, Altaf deeply felt and recognized Dharma Master Cheng Yen's selfless dedication to education and equality.
Every child is a seed, the hope of the nation and society. And so Altaf opened his arms to let love enter Siddhartha Primary School, to become the first seed teacher of the Tzu Chi Education Association in the Buddha's Homeland.
Although most villagers' families and lives are not affluent, under the guidance of the principal's love and benevolence, his group of children began to learn the practice of setting aside a handful of rice each day. Even parents and teachers joined together in this virtuous endeavor to accumulate their love and offer it to those in need.
Continue the Flow of Goodness, Broaden Love
On August 6th, a total of 169 students, teachers, parents, and villagers from nearby communities arrived at Siddhartha Primary School with their bags of rice, coming together to witness the positive impact of the Rice Piggy Banks Reunion.
Volunteers noticed a group of women placing paper currency into the rice pile and curiously asked one grandmother, "Why do you want to contribute paper money?" The grandmother immediately replied: "Our children donate rice, so we'll donate money!"
With a smile, the volunteers continued their inquiry: "How do you know Tzu Chi will use both the rice and money for charity?" The grandmother responded without hesitation: "God knows what you're doing, so we're not worried." She added: "My grandson also told us that saving rice and money can help the poor." The pure and kind hearts of these individuals touched everyone deeply.
Handful of Rice Brings Warmth and Blessings to All
The educational team waited until Gautam, the grandson mentioned by the grandmother who donated paper money, finished school that day and visited his home.
Gautam, an eleven-year-old fifth-grade student, lives with his grandmother, father, and mother, ranking third among his siblings—a brother, a sister, and a younger brother. Their brick house, better than many thatched huts in the village, signifies a relatively comfortable life.
"Less fighting, helping with household chores, and even giving massages," the friendly mother chatted with the volunteers about the usual affairs of the family. She spoke about Gautam's transformation, from being hyperactive and prone to quarrels to becoming responsible and even helping to tidy his room and share household tasks. She emphasized: "He still has occasional quarrels, but it has improved significantly." Her smile deepened as she spoke.
"How did you come up with the idea to massage the elders?" the volunteer curiously asked Gautam. The child honestly replied: "Tzu Chi activities taught us to give massages to the elders." The volunteer realized that he referred to the filial piety event in February this year (2023) when volunteers entered the campus for foot washing and tea serving. Love had quietly seeped in through this subtle influence, and the child had quietly absorbed the teachings.
"What else have you learned?" Gautam blinked his clever eyes and counted: "How to wash hands to keep them clean, setting aside a handful of rice each day, and filial piety." The volunteer asked again: "How do you set aside a handful of rice each day?" "When my sister cooks, she puts the rice into a container." "Why isn't it you who sets aside a handful of rice?" In this heartwarming interaction, the volunteer persisted in questioning, prompting a bashful response from Gautam, "I... don't know how to cook..." His honest answer made everyone laugh.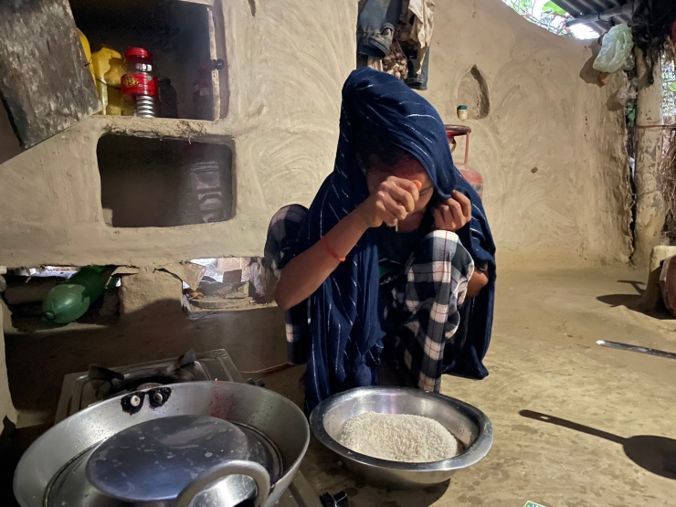 As the sun set, the time for Gautam's sister to cook approached. Reluctant to leave, the volunteers wanted to witness the moment of "setting aside a handful of rice." They observed her scooping the evening's portion of rice from the rice bin into a bowl. She then picked up a handful of rice from the bowl and placed it on her forehead, silently praying. Explaining to the volunteers, she said: "This is both a prayer and a blessing to the divine!" This heartwarming scene, filled with compassionate wisdom, warmed the hearts of everyone present.
"To set aside a handful of rice and witness the kindness of the people actually revives a long-lost tradition of teaching goodness," the volunteers deeply felt as they immersed themselves in the community's homes. The Rice Piggy Bank awakens the most sincere and beautiful hearts in everyone. With hopes of setting aside a thought of blessing each day, this act of selflessness benefits both others and oneself, and illuminates the future of Lumbini.
A Jing Si Aphorism says: "There are two things in the world that cannot be delayed -- one is doing good and the other is being filial."
Join Tzu Chi. Let us work together to make the world a better place.
Story by Goh Lam Kia, Liao Yue-Hong, and Wu Hsiu-lin | 2023/08/18